GLOBAL | Using automation, day by day improvement
Sitemorse Intelligence Engine (SMIE™) both prioritises and manages actions, which are then distributed by role. Priority actions will bring about the biggest improvements and are also manageable usually 10 priority actions each week: 1 for the morning and 1 for the afternoon - delivering improvement every day.
https://www.youtube.com/watch?v=xBkxdnp7uKQ
US | Make Digital Accessibility a Priority in 2020
In an article, titled "Make Digital Accessibility a Priority in 2020," User1st's Vice President of Communications Raegan Bartlo highlights four reasons why a commitment to digital accessibility can help businesses reach more customers, care for those customers, demonstrate corporate social responsibility…
https://finance.yahoo.com/news/user1st-issues-call-action-businesses-113000116.html
UK / US | Changing the way you deal with Accessibility
To help digital teams make these improvements Sitemorse developed a practical and pragmatic way to deal with any issues that have been highlighted, "Priorities". Priorities was launched three years ago covering Accessibility, Brand and other areas. It soon highlighted that Accessibility was one of the key areas that needed to be focused on...
https://sitemorse.com/blog-article/9027/sitemorse-changing-way-you-deal-accessibility/
GLOBAL | But our provider says we have a great accessibility score
A lot of organisations ask why Sitemorse has given them a low score for the accessibility of their website, yet their current provider gives them a really high score and says there is nothing wrong.
https://sitemorse.com/blog-article/9626/why-does-Sitemorse-score-my-site-lower-than-Siteimprove/
US | University 'claims' scores top marks in website accessibility test (but failing basics?)
The University's IT team was able to assure Dr Botzman (Principle) that not only was the university's website accessible, but also that it was more so than many others in the higher education sector. See below – which brings into question who wrote, approved and then checked this article – and rather than reduce risk, is the University actually now open to greater litigation?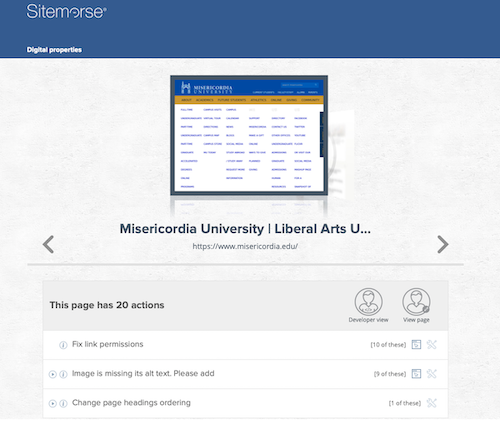 https://diginomica.com/misericordia-university-scores-top-marks-website-accessibility-test