Recently we published our Q4 State of the Nation Report for UK Local Government and a number of local authorities have been in touch. Whilst we are unable to engage directly there is a common question about our scoring.
We have previously discussed how Sitemorse compares with Siteimprove, on our blog: https://sitemorse.com/blog-article/9597/how-do-we-compare-against-the-competition/ however, we felt would be useful to revisit this topic.
Typically, the question takes the form of "…we use Siteimprove and consistently score above 95% for accessibility… this is a massive difference between how you are scoring our site and how Siteimprove are scoring it".
The authority asking the question, this time wasn't unusual in having received a score of zero, out of 10, for accessibility from Sitemorse.
We do not have access to Siteimprove, however, we do have plenty of experience with clients that have moved from Siteimprove to Sitemorse. They often tell us, for example, that Siteimprove told them there were no broken links and yet we have found several. This demonstrates the thoroughness of our assessments.
We believe you should carry out the most thorough assessment possible and clients have told us we look at a greater number of tests, checks and measures than competitor solutions. Our clients have access to SMARTVIEW which clearly highlights where the issue is on the page and also in the page source code.
For our public INDEX, we assess the first 125 pages of each local authority's website. If we are finding more issues than a competitor, then it's likely that either our assessment is more thorough, or we are looking at more pages. We believe that confidence in a score should be based on the most through assessment possible.
The local authority who we quoted above was scoring over 95% for accessibility with Siteimprove and yet received an accessibility score of zero from Sitemorse; so, what's going on?
Our assessment of their site showed the following:
93% pages with accessibility priorities
99% pages failing A
93% pages failing AA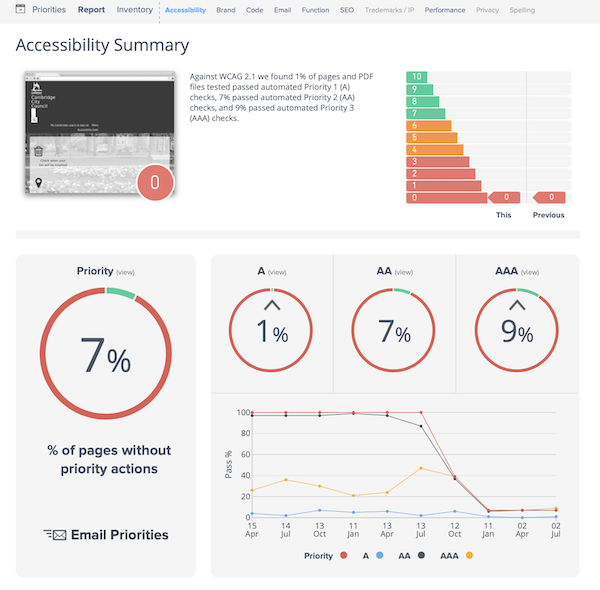 If we look into the detail, we can see the top 5 accessibility actions occur more than 125 times each, which would suggest a template error is impacting very page on the website. Similarly, the Code Quality priority actions suggest multiple instances of the same issues: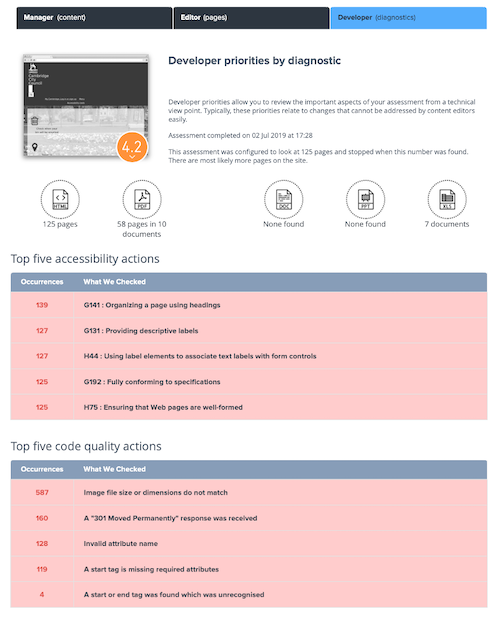 As mentioned earlier, we don't have access to Siteimprove to see what has been found and why a 95% score has been achieved for accessibility. However, we do know what we have found by testing against the WCAG2.1 standard.
If you are concerned about accessibility, then we advise ensuring that you conduct the most thorough assessment available. We believe in using an automation tool, like Sitemorse, to do the 'heavy lifting' with the addition of manual assessment for those areas that automation cannot test. If you rely on manual testing alone then the task may be never ending and in fact the number of issues may keep increasing.