This week, Support Lead, Helen Grimbly will outline how a one page assessment can be run using SMARTVIEW.
SMARTVIEW is an inbrowser tool that allows you to run an assessment of any live public web page that is open in your browser, at anytime. . The use of SMARTVIEW is unlimited.
To add SMARTVIEW, click the SMARTVIEW link at top right of page when logged in to Sitemorse. Just drag the SMARTVIEW icon to your tool bar to add to your bookmarks bar. Then browse to any live public web page, click the SMARTVIEW icon. It will take less than 30 seconds to run and then report live to your screen the results, for example: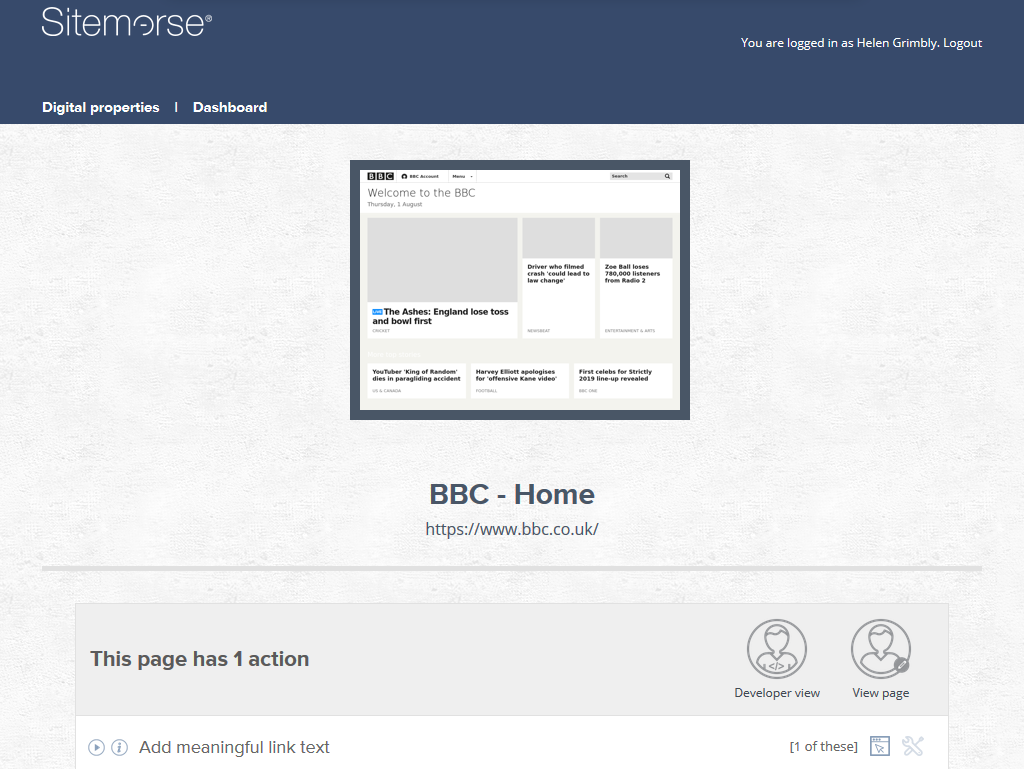 A screenshot of the web page will be shown, and below that the number of priority actions to be resolved, each of which can be selected for more information. Two icons are shown on the right, Developer view and View page. Each allows the user to view what the page looked like at the time of the assessment, with category options to toggle on/off and inspect issues on the (stored) page. Once a category is selected, next / previous buttons can be clicked to step through each issue. SMARTVIEWs can also be forwarded to any email address with the 'Forward SMARTVIEW' link near the top left of the page. The recipient doesn't have to have a Sitemorse account to view a forwarded SMARTVIEW.
The Developer view has a 'View Source' button that allows the user to view what the source of the page looked like at the time of the assessment, and actions on the related code lines are highlighted when categories are toggled on.
SMARTVIEWs are also stored for 30 days under the 'Ad hoc' tab from Digital Properties screen.