This week, Support Lead, Helen Grimbly will be looking at how to configure the monitor for your site, so that if the front page (or other specified URL) of the site goes down, an alert is sent to you when that page recovers.
Included in some of services is our uptime and availability monitoring system, Heartbeat. Heartbeat monitors a specified URL every five minutes from nine different locations around the world. Heartbeat can send an email and/or SMS notifiying if a site goes down or is responding slower than expected, and when the site recovers if it has gone down.
To access the settings for an alert recipient from the Digital Properties page, select 'Journeys & Monitoring' for a listed live site that has an active monitor, then the Cog icon next to the title in order to view settings, the Alert Recipients tab, and then the Cog icon for each alert recipient, where you can change and save settings.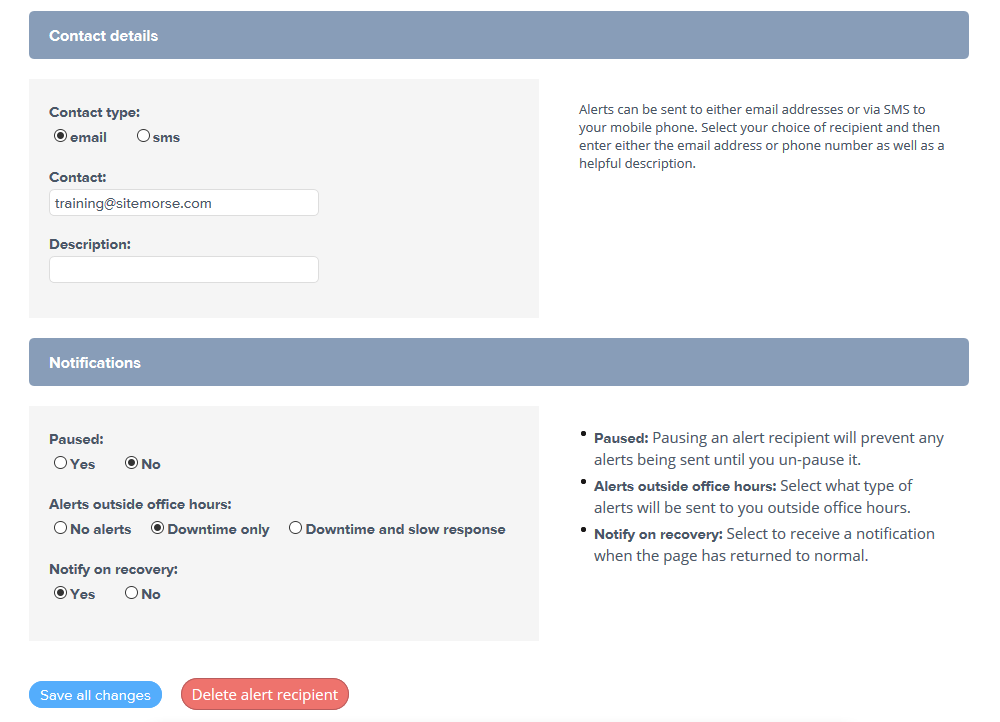 In alert recipient's setting for the monitor, there is an option called 'Notify on recovery' message (email or sms). Set this to Yes for that alert recipient to receive a message when that site page recovers after being down. A further option that should be considered is 'Alerts outside office hours' - in order for a recovery email to be received outside office hours (outside of 8am to 6pm), this setting should be set to 'Downtime only' or 'Downtime and slow response'.
Please note: the master user of each organisation has permissions to change all Alert Recipients, Targets & Thresholds. Other users can on request (and approval by master user). If you have any queries about the above, for users of Sitemorse - please submit a support request via "Need Help?' link in the top banner after login, or contact us.
For further information regarding other monitor settings, please see this article 'Spring-clean your Monitor Settings' (https://sitemorse.com/news/2019/03/06/spring-clean-your-monitor-settings/)