07 Jan 2019

| Accessibility | Public sector | Private sector | SM update
---
One of the biggest challenge digital managers face is ensuring their community of web publishers, content managers, and authors adhere to publishing standards and digital compliance in areas such as brand, accessibility, SEO and more.
Central digital teams are heavily reliant on this content community to deliver an excellent web experience for site visitors. However, teams simply don't have the time, resources or patience to approve, review or police every piece of content. And they have even less time to carry out the detailed training needed so that content creators are truly self-sufficient in being able to produce high quality, compliant web content.
Extending the Sitemorse Academy
Recognising this problem, we're extending Sitemorse Academy, an expanding library of short, bite-sized learning videos which train your content owners about a specific issue such as "Make current alt text meaningful". Each video is highly digestible, explaining what the issue is, why it's important and how to manage corrective actions in the most efficient way possible.
Uniquely, these videos are embedded directly into the Sitemorse reporting so that when a content owner gets an alert informing them that a priority action is required, there is also a link to an accompanying video. This means highly targeted learning is delivered to the right person at exactly the right time. Central digital teams also get an overview of which videos are being watched and by whom, so they can make better decisions on who needs to be trained and on which issues.
Here's four reasons why the Sitemorse Academy is an exciting and innovative development which will be loved by central digital teams, appreciated by your content community and will impress your central budget holders!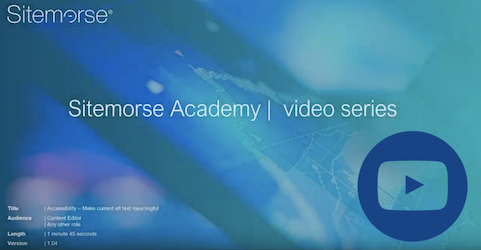 Targeted, actionable learning with genuine impact
Most organisations follow the 70-20-10 model of learning or have blended learning programmes which recognises that the most workplace learning and development occurs outside formal training sessions. Much more is gained "on the job" and through experience; this has more impact, is generally preferable for the trainee and helps to truly embed new ways of working.
Sitemorse Academy learning videos are delivered just-in-time; exactly at the moment they are needed and as part of carrying out a task. They are designed to be accessed just before a content contributor attempts to correct an issue, or just after, if they have attempted an action and extra guidance is needed.
This means that the individual is not only motivated to watch the video as they want to complete the task, but the learning is immediately actionable and reinforced through an action being successfully carried out. This helps to embed good habits relating to accessibility, brand compliance and more.
It also means your content contributors don't have to experience a longer training session where they will likely forget most of the points learned before using them in practice. Most of your content contributors will already being experiencing cognitive overload from all the things they are being asked to do; Sitemorse Academy is designed not to add to that load.
Returning time back to you
We know that training and then supporting your diverse community of content creators and publishers can be extremely time-consuming. They may be very numerous, spread throughout your organisation across different locations and even timezones, and have varying levels of ability and willingness to follow your guidelines. Some will need constant hand-holding. People come and go and need re-training. The logistical challenges are significant.
Most digital managers and their teams are already severely time-stretched. While Sitemorse doesn't remove the need for training altogether, it massively reduces the associated effort, returning time to you to spend on more useful and less mundane activities.
The Sitemorse Academy reporting feature also means you can make training interventions when you actually need to. For example, one of your publishers keeps on making a mistake and it's clear that they haven't watched an Academy video. You can then suggest to them directly to watch the video or you can walk them through the process. Again, it's returning time to you to make your interactions with your publishing community more streamlined and of higher value.
Reducing your costs
Some organisations choose to invest in expensive training, for example in accessibility. We think that's critical for web managers and central digital teams, but it's often overkill for your wider content publishers who don't have time to attend a day long course relating to an activity which may be peripheral to their role. Sitemorse Academy training focuses on just the things they need to do, meaning your organisation doesn't need to budget for expensive, specialist training.
You also don't need to budget for extra professional services. Sitemorse is a product which we continue to invest in. Unlike some other vendors in the digital QA and compliance space, we're not trying to sell you additional professional services on top of our offering. We want to make our product as impactful as possible, and you as self-sufficient as possible, using automation and innovation where we can.
The Sitemorse Academy is being built with this philosophy in mind, providing access to just-in-time learning using automated approaches, so it can just work in the background, again reducing costs.
Great, compliant websites
The most important outcome from the Sitemorse Academy is that it helps you and your content community to deliver and maintain great, compliant websites with high quality content and a powerful user experience.
Learning from the Sitemorse Academy
We're excited about the Sitemorse Academy! We'll be rolling out our library of over seventy videos over the coming months, helping you to reduce your costs, making better use of your time and ensuring your content community learn how to create and manage excellent and fully compliant content. If you have any questions or suggestions, then please do get in touch!