The results of the UK London-listed PLCs INDEX are now in and reveal a huge range in the level of compliance achieved. The top site has been awarded the maximum score – but there's a big name at the bottom struggling with its digital assets.
The UK London-listed PLCs INDEX includes organisations from the FTSE All-Share INDEX. The FTSE All-Share INDEX aims to represent at least 98% of the full capital value of all UK companies that qualify as eligible for inclusion. It is the aggregate of the FTSE 100 Index, FTSE 250 Index and FTSE SmallCap Index.
So how are the websites in the UK London-listed PLCs INDEX doing?
The Sitemorse INDEX runs quarterly, assessing sites and giving them a score and subsequent rank based on user experience, optimisation and compliance. Factors assessed include loading speed, spelling, functionality and accessibility.
The INDEX assesses the top 125 pages of each site. One of the sectors the INDEX assesses is UK London-listed PLCs.
In the Q3 UK London-listed PLCs INDEX, 479 sites were included and across these sites, 909,193 URLs were tested. In total, 3.43% of URLs in this INDEX failed functional tests meaning that they did not return a "200 success" http status code or redirect to another site. A significant proportion (88.61% of pages tested) also failed code standards.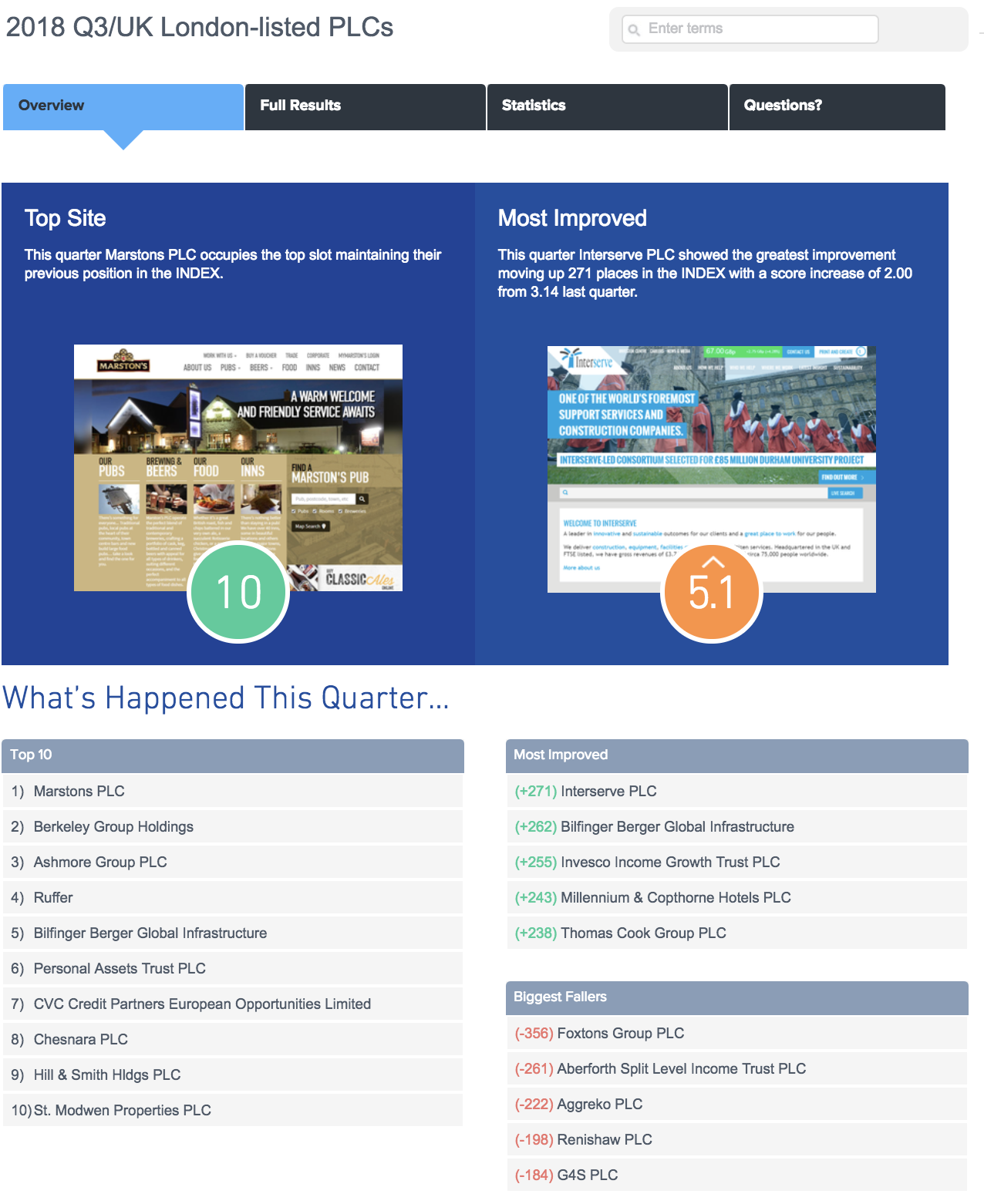 The Q3 results are available for this sector from today, Tuesday 28th August 2018.
Overall, the results are mixed. The top site this quarter, for the ninth quarter in a row, was Marston's PLC, which was awarded the same maximum score as in Q2: 10/10. The most improved site this quarter was Interserve plc, moving up the rankings 271 places to 120th position.
In terms of scores, there was no change to the INDEX-wide range. However, we saw a different site at the bottom of the rankings – the high-street staple Marks & Spencer Group plc (M&S) with a score of just 1.4. It is disappointing to see such a big name at the bottom but the company has been performing poorly for some time.
It was reported by The Guardian back in January that the M&S site wasn't delivering on sales, and this could well be as a result of the poor performance that the website is offering to users. M&S's Accessibility Statement reads: "We have strived to ensure our website conforms to level A compliance as specified by the Web Content Accessibility Guidelines (WCAG)." However, the most recent INDEX shows that 100% of pages failed A and 99.2% of pages failed AA.
For the full results, please visit https://sitemorse.com/index/uk-london-listed-plcs/2018-q3
How does this relate to sales at M&S Online?
Compared to some of its key competitors, M&S is falling well behind in the digital arena and only 18.5% of its clothing and home sales are online.
Providing a high standard of online user experience is vital for retail businesses to succeed today. Websites must be both compliant and functional. In a study of 1,000 ecommerce sites with 1,000 to 1,500 product pages and Alexa rankings of between 150,000 and 200,000, WooRank found that 12.2% of backlinks sent users to a 404 page. Meanwhile, 4.6% of links redirected users to the site's homepage, meaning that 18% of backlinks failed to meet user expectations. If a customer can't get to what they are looking for then how are they supposed to complete their purchase? What's more, this dissatisfaction and the sense that the site doesn't work can impact not just on the immediate purchase, but also on future purchasing decisions.
In M&S's Full Year Results, for the period ending 31 March 2018, they state: "Although our online sales are growing, our online capability is behind the best of our competitors and our website is too slow....The website is being improved and we are investing to increase and improve e-commerce capacity, including at our Castle Donington site in order to support our ambition to double the online share of our Clothing & Home sales to over 33%"
Page loading speed is an important part of user experience. The M&S site's performance in this area didn't put it at the bottom of the table, but the results were a long way off the top performers. The company's performance score was 6/10, with an average response time of 0.19 seconds and download speed of 42.42 kb/s. When compared with the top sites for performance in this sector, there is a significant difference (0.01 second average response time and 855.25kb/s download speed). Research suggests that improvements in website response times and page load speeds can have a major impact on revenue generated.
How can M&S improve?
If M&S is to improve its compliance and user experience, it will first need a comprehensive understanding of its existing digital estate. Then they need to make corrections in an understandable, manageable, measurable and achievable way is key to a successful journey towards compliance.
The best way to do this is to provide digital teams with automated prioritised improvements to make on a weekly basis rather than just reports – as this helps them focus on what they need to do that will have the biggest impact on their accessibility, usability or compliance.
On top of the automated monitoring M&S will need to conduct manual testing of elements that require human judgement.
Sitemorse is able to support all of these needs for organisations like M&S, as we have built in Prioritisation Intelligence, enabling digital teams to manage corrections in a practical and pragmatic way. Priorities empower teams to make improvements fast by providing a manageable number of tasks to complete.
Our purpose at Sitemorse is to make compliance achievable by helping organisations improve their user experience and ensure that content is both optimised and compliant.
We enable organisations to set out on a continuous improvement journey that is measurable and quantifiable, focusing on action over monitoring. This helps our clients to optimise performance continually and ensures that they can adhere to both internal standards and external regulation.
To find out more about how Sitemorse can help your organisation on its journey to compliance, or for more information on the INDEX, please contact sales@Sitemorse.com