---
Consumers expect an extremely high standard of website performance today. This can be a challenge – but we provide a range of tools that can help digital managers to monitor performance, to identify issues and to drive continuous improvement.
The Sitemorse service provides two main types of website performance testing: via SMARTview, a handy tool which tests single pages; and via assessment which can be used for full-site testing.
Single-Page Reporting – SMARTview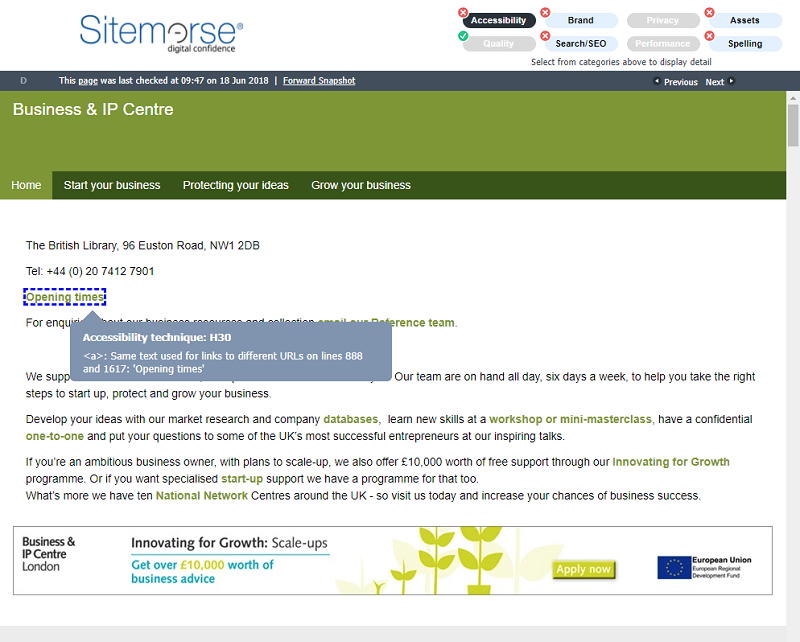 SMARTview is a tool which allows you to easily assess performance on a page-by-page basis. Knowing how a particular page performs can be essential as different pages can perform very differently; and different pages are often managed by different individuals and/or departments.
The SMARTview tool is accessed in-browser, via a bookmark-view of the website, and can be run against any publicly accessible webpage by anyone with the link, in order to check any page at any time. SMARTview is always up to date and is exceptionally thorough, carrying out over 600 checks on each page.
SMARTview views the website from a normal user's perspective, meaning Sitemorse will pick up links to internal servers that you might miss if reviewing the page from your CMS. Hence, content editors can use the tool to instantly check their own pages without having to spend time liaising with the digital team to run tests on the site.
One of the things that SMARTview tests for is performance. The SMARTview report offers access to a graph illustrating how long the page took to load as well as the response and download times of the individual page assets. Longer bars point to page assets that take a long time to download and which slow down the page (with potentially severe consequences for engaging and retaining users).
Site assessments – assessing the homepage and the entire site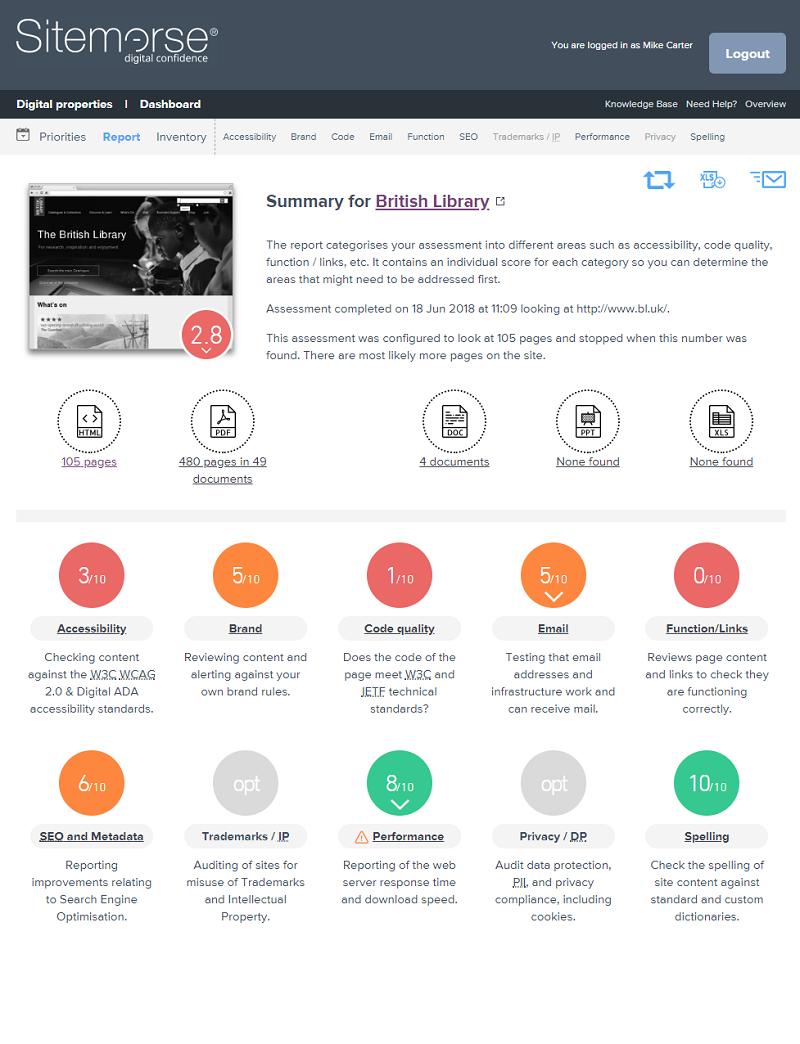 A website's homepage is likely to receive a significant portion of all traffic reaching the domain – and so provides a crucial first impression for many visitors. Because of this, it is important that the page performs well at all times, setting the standard for user experience on the site and, crucially, ensuring that visitors do not bounce.
Sitemorse provides a full-site assessment of the homepage which can then be viewed in a Sitemorse report, under the category 'SEO and Metadata', by selecting 'Landing page' and then 'Page download'.
Sitemorse also offers full-site assessments which can be run on anything from 12 to 250,000 pages. In our reports, performance is assessed within its own category and is rated out of 10. This score is determined by the time taken to receive an initial response from each page assessed, as well as the time that it takes to download each page.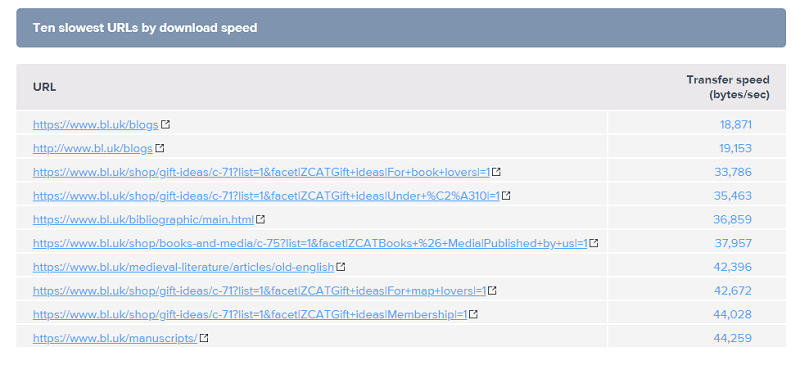 The report lists the 10 slowest pages for initial response and download times and highlights pages that are particularly slow (taking over five seconds to load).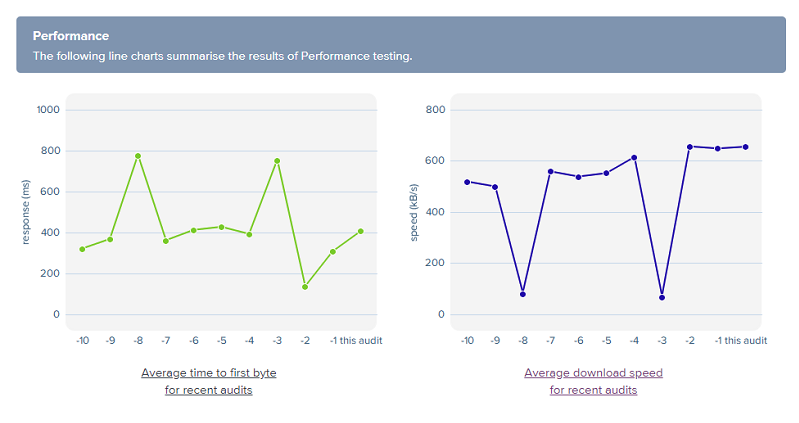 The report also includes a performance icon (an exclamation mark) which indicates if the site has any very slow pages – even if performance is good overall; and performance graphs, which show average response times and download times of all pages across the site. These can be compared against up to 10 historic performance results. This enables you to review how changes have affected the website's performance and to assess whether results have improved over time.
Every second counts when it comes to page loading speeds. After all, over half of all mobile users will reportedly bounce if a page takes longer than 3 seconds to load. This could easily mean millions in lost revenue for major businesses – or it could make it simply impossible for a smaller firm to develop traction.
About Sitemorse
Sitemorse (www.Sitemorse.com) helps organizations to efficiently drive improved user experience, ensuring that content is always optimised and that compliance requirements are always met. With clients in every corner of the world, Sitemorse (www.Sitemorse.com) sets out to remove endless reporting from Digital Governance and to instead provide actionable insights so that major changes can be made quickly.
The company has now been moving the field of Digital Governance forwards for over 15 years, while remaining privately owned, and continues to provide clients with new tools and capabilities every year. Most recently, this has included a focus on extending capabilities directly within the CMS, as well as addressing the governance / QA service issue of 'endless reporting'.
Sitemorse (www.Sitemorse.com) helps digital managers to build strong processes and accountability, to minimise risks and to achieve the highest standards of content quality. And with Sitemorse (www.Sitemorse.com), there is no need for the substantial infrastructure, support and accordant costs that are required for manual quality and compliance checks.