Getting digital governance right isn't a one-off job. Instead, it's about regularly running audits and iterating towards better performance as you raise your overall level of digital delivery. At the same time you'll want to prioritise the most important actions, resolving urgent issues as soon as possible.
This is precisely the approach that Sitemorse takes to digital governance – and Sitemorse makes it easy to track your audit schedule.
Sitemorse provides calendars that allow you to quickly see when audits are scheduled and to view historic results. What's more, it's easy to select an event to show the priorities for each audit, available at a glance.
Historic audits are shaded in red (highlighted as '1' below), with future scheduled audits shaded in blue (shown as '2'). This makes it easy to get on top of precisely what is happening and when – and to draw a list of priority actions from every audit that you run.
Why would you want this level of detail?
Managing digital governance is helped considerably if you can track progress and demonstrate improvements. Monitoring sporadic alerts and issues is significantly easier if you can trace matters down to the line in the code. After all, how do you prove something if the only detail that is actually available is the latest report/results? Being able to compare and contrast against detailed historic reports makes it far easier.
Sitemorse archives the detail of your site and what assessments have found, right down to the line in the code, allowing you to recall the information for up to 7 years (see an example page from 2011 at the end of this article).
The view for clients, using DD (Digital Dashboard) Service: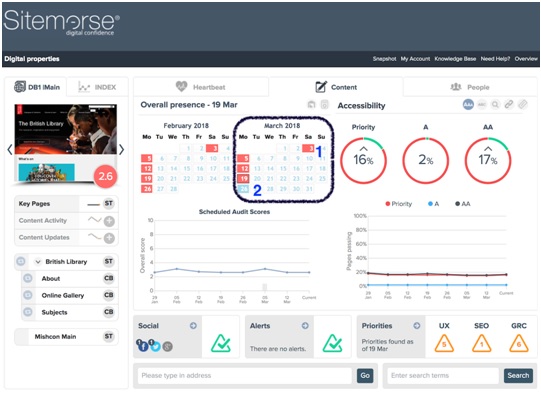 For those on DR (Digital Reporter), with the historic reports option and those who login for use and/or the system from the developer view. (This is not included in the SiteImprove competitive upgrade)
Click on the calendar icon in the upper right – this shows the dropdown of the most recent results available (as you will see from image 3, we really do store the full details of every assessment). You can then choose to see: priorities ('1' below), the assessment report ('2'), while (3) takes you to the content inventory and (4) is the download option.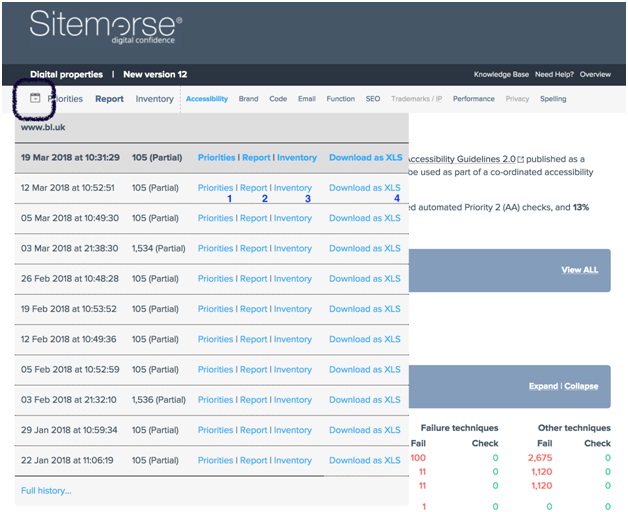 History – how much detail do we hold?
You could say 'almost everything'. Sitemorse can recall the actual page (as a page) or show the HTML – others may talk around this point and describe something similar to this capability; however, the proof of the pudding is being able to demonstrate this. An example of a site page from 7 years ago is illustrated below – it typically takes under 40 seconds to recall and display.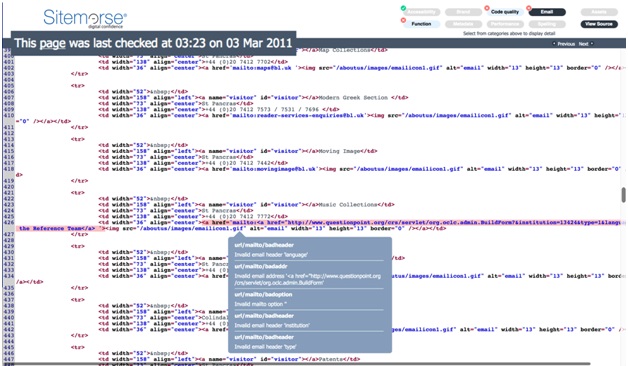 About Sitemorse
Sitemorse (www.Sitemorse.com) helps organizations to efficiently drive improved user experience, ensuring that content is always optimised and that compliance requirements are always met. With clients in every corner of the world, Sitemorse (www.Sitemorse.com) sets out to remove endless reporting from Digital Governance and to instead provide actionable insights so that major changes can be made quickly.
The company has now been moving the field of Digital Governance forwards for over 15 years, while remaining privately owned, and continues to provide clients with new tools and capabilities every year. Most recently, this has included a focus on extending capabilities directly within the CMS, as well as addressing the governance / QA service issue of 'endless reporting'.
Sitemorse (www.Sitemorse.com) helps digital managers to build strong processes and accountability, to minimise risks and to achieve the highest standards of content quality. And with Sitemorse (www.Sitemorse.com), there is no need for the substantial infrastructure, support and accordant costs that are required for manual quality and compliance checks.