Sitemorse is proud to announce a new technology partnership with Accessibility Center (www.Accessibility.Center) to provide automatic "Accessibility as a Service". The partnership introduces new levels of accessibility reporting, simplifying accessibility (WCAG2.0) compliance with new prioritised actionable insights.
Accessibility Center will offer audits based on Sitemorse's technology, with results available in minutes and with no contracts being required – meaning that getting started couldn't be simpler. Typical reports cover 500 pages and cost $99. As well as a new way to buy audits, the service delivers unique insights, each addressing the needs of differing roles.
As a launch offer, Accessibility Center's reports will include the ability to scan PDFs at no extra cost.
Sitemorse prides itself on being able to provide a thorough, cost-effective and easy to use accessibility service – and not just supplying data but providing actionable insights. This bypasses the cost, difficulty and time delay of manual checking and meets the needs of:
- Developers: seeking technical diagnostic priorities
- Content editors: identifying the top 10 pages to work on to get fast results
- Managers: providing a benchmark and laying out the big picture
These reports also allow organizations to independently verify the quality of work completed by third-party providers and to ensure that it meets company standards.
US sites are required to meet Section 508/ADA accessibility requirements. There is also an increasing uptake in the private sector, with a recent change seeing airlines flying to the US required to meet non-discriminatory accessibility standards. The U.S. Department of Justice has used the Web Content Accessibility Guidelines (WCAG), created by the World Wide Web Consortium (W3C), to provide a clear set of standards for website accessibility. In recent years, schools in states such as Washington, Virginia, Texas, North Carolina and Arizona have been the subject of complaints filed with the Department of Education's OCR over poor online accessibility.
Going forward, the Sitemorse INDEX (which definitively ranks sites for accessibility), could form a benchmark for legislators overseeing the market.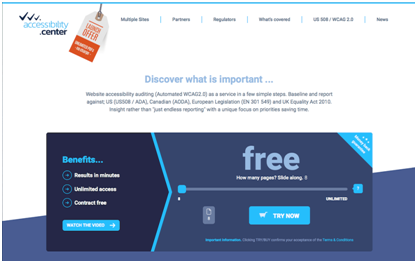 Jon Ribbens, Sitemorse's Technical Director said, "We're extremely excited about our new partnership with Accessibility Center. We believe that by working together we can drive real market improvement. Organizations have a statutory requirement to support accessibility – and these features make a huge difference in the lives of less abled people."
Accessibility means laying out web interfaces so that features are fully available to all users and building in good design from the ground up. Companies that do accessibility correctly typically have strong leadership and a firm understanding of corporate responsibility. Sitemorse is proud to provide perhaps the most effective accessibility automation reporting tool in the world.
Try a few pages of your site free, visit www.Accessibility.Center
About Sitemorse
Sitemorse first introduced Digital Governance automation in 2001. Still privately owned, the company pioneered the field and continues to provide clients with new tools and capabilities every year. The company's new Digital Experience Manager brings data science to governance analytics, advancing capabilities for the full content management cycle, simplifying the monitoring of quality, content consistency and compliance from within Content Management Systems, and providing continual monitoring thereafter.
Sitemorse helps digital managers to build strong processes and accountability, to minimise risks and to achieve the highest standards of content quality, with hierarchical reporting to manage corporate responsibility. With Sitemorse, there is no need for the substantial infrastructure and support, and the accordant costs that are required for manual quality and compliance checks. Ultimately, Sitemorse delivers confidence and drives efficiency to optimise branding online.
For more information, please visit: www.sitemorse.com
Contact:
Sitemorse, 48 Charlotte Street, London W1T 2NS
Telephone: +44 (0)77 2940 5889
PR enquiries:
Michael Simon: msimon@sitemorse.com