The "UK Local Government INDEX: Q1 2017" is announced
London, 13th March 2017 – Sitemorse, publisher of industry wide indexes in experience, optimisation and compliance, today announced the publication of its UK Local Government INDEX for Q1 2017, and revealed that Harrogate Borough Council has the #1 ranking website. The organisation has been appearing in the INDEX since October 2008, when it was ranked 425th, however this is the first time that it has reached the top position in its category. The full report, which includes most improved and biggest fallers, can be accessed via the following link: https://sitemorse.com/index/uk-local-government/2017-q1

"We are delighted to see Harrogate rise to #1; this is a project where we got involved early, during the pre-planning stage of the new website," said Lawrence Shaw, CEO of Sitemorse. "It is a terrific example that shows even a small team or individual can achieve fantastic results with careful planning, and the use of the correct digital tools for the job. Clare Cryer, Harrogate's Web Officer, was driven to achieve the best website experience for visitors, a vision shared by their CMS vendor Jadu and Sitemorse," said Shaw.
"We're really proud of Harrogate Borough Council who have used Sitemorse to ensure that their site remains optimised and accessible to citizens as content is authored through the Jadu Continuum platform," said Andy Perkins, Director of Engineering at Jadu. "Accessibility is one of the founding principles at Jadu and we're very happy to see the council be so successful in this area," said Perkins.
Harrogate Borough Council is based in the town of Harrogate, but its region includes the surrounding towns and villages, including an Area of Outstanding Natural Beauty. The district is part of the Leeds City Region and North Yorkshire's most populous district, consequently the website provides an important community information hub. Details about council tax, museums and galleries, household waste, planning permission and car parks are available from the site. Achieving a score of 9.6 (out of 10), up from 8.8 in Q4 2016, is a significant achievement and demonstrates their commitment to providing the very best experience for visitors to their website.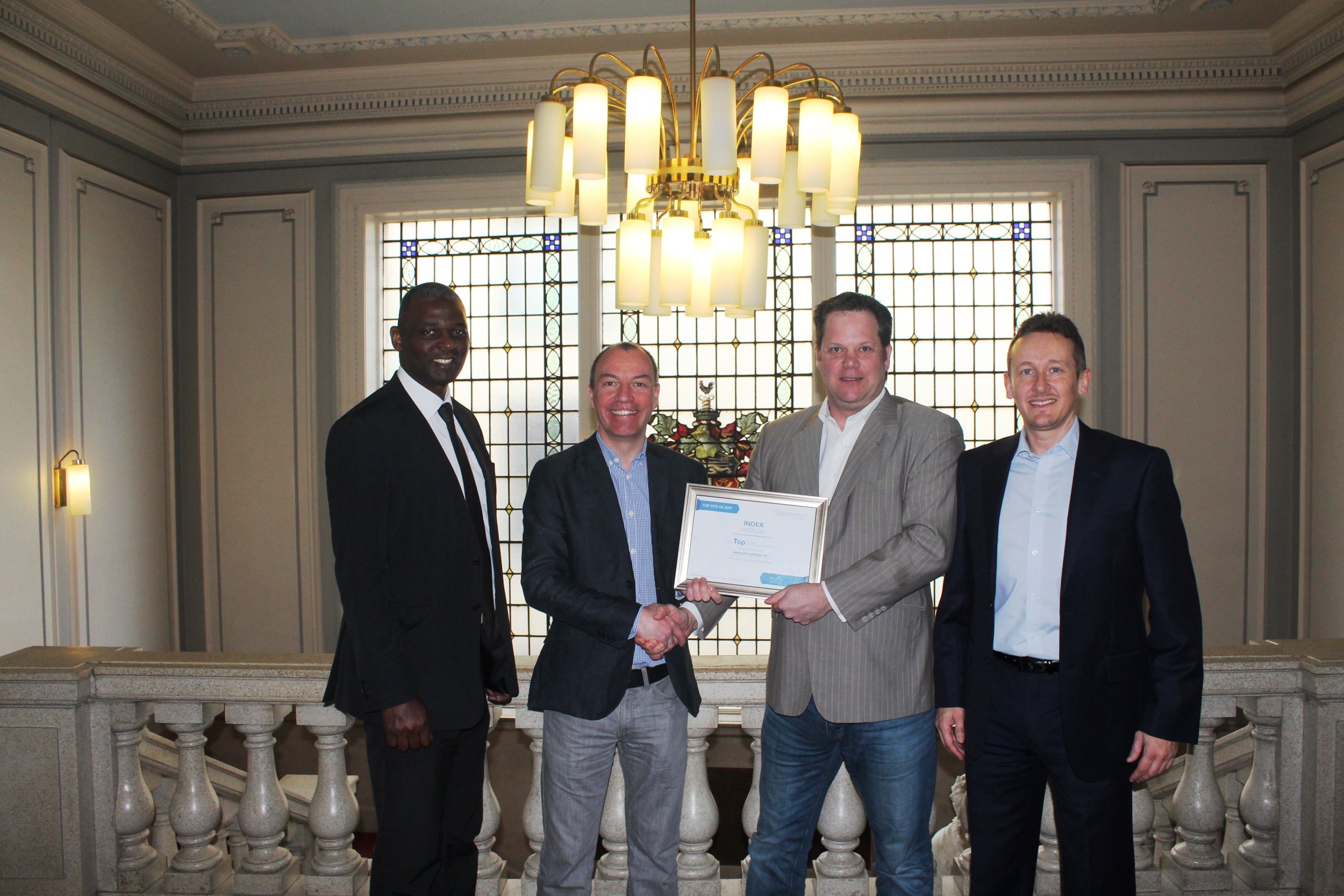 Lawrence Shaw, CEO of Sitemorse, presents Councillor Richard Cooper with Harrogate Borough Council's certificate.
Pictured (left-right): Wallace Sampson, Chief Executive of Harrogate Borough Council; Councillor Richard Cooper, Leader of Harrogate Borough Council; Lawrence Shaw, CEO of Sitemorse; and Piers Morgan, Commercial Director at Jadu.
Councillor Richard Cooper, Leader of Harrogate Borough Council, said: "Our aim is always to help more people get the support and information they need as quickly as possible. Our old website did not do that. The council has launched a new site which has taken us from internet-zero to web-hero in under a year. More people now use the site to do more things at less cost to the taxpayer. Everyone is a winner including the council's online-team with this top ranking among local authority websites.
"Before building the website, we spent a great deal of time engaging with the public to understand what they wanted from a council website. We have listened to their thoughts and incorporated them into the design. That is why with our new website if you want a council service quickly, it takes just a couple of clicks.
"We have created a website which meets the needs of our customers; however, there is more we can do and we will continue to develop the site to provide customers with access to even more services and conduct more business online."
Amongst other key report findings this quarter: Havering London Borough Council showed the greatest improvement moving up 383 places in the INDEX with a score increase of 4.85 from 2.73 last quarter. The biggest faller this quarter was North East Derbyshire District Council, which moved down the INDEX 265 places with a score of 2.3.
Sitemorse produces quarterly reports for private and public sector industries focused on experience, optimisation and compliance. Tailored reports based on your industry or organisation can be generated upon request by contacting Sitemorse via the details below.
About Sitemorse
Sitemorse is an independent organisation with a central London head office and UK based support teams. The company provides automated and scalable, cloud based software analysis of content, page by page, to ensure consistency and monitor accountability. Work projects range from single websites and social pages, through to global enterprises with a full spectrum of digital touchpoints and multiple sites around the world.
INDEX (from Sitemorse)
The only recognised independent sector benchmark; it has provided a trusted source of data for numerous public and private sector organisations, including the UK Government "Better Connected" report and the World Retail Congress.
For more information, please visit: www.sitemorse.com
Contact
Sitemorse, 48 Charlotte Street, London W1T 2NS
Telephone: +44 7545 255 365
PR enquiries:
James Spice: jspice@sitemorse.com