Monitor your website to check for urgent issues that interrupt service or make it unavailable.
Why is this important?
You need to know if your website has been hacked, is slow or is not available. The sooner you know the less the damage. Uptime, availability and monitoring of experience is key.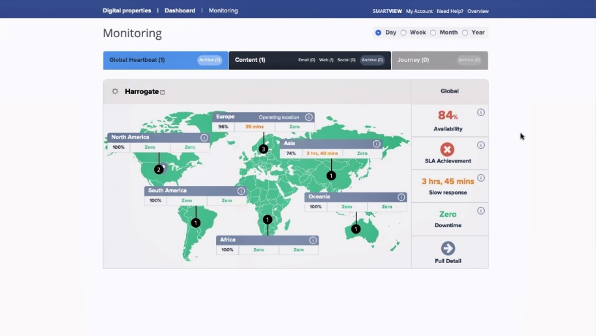 How it works
HEARTBEAT provides 'at a glance' essential information in a traffic light colour coded interactive map format. This visually shows the status of all or any part of digital landscape on a continent-by-continent, country-by-country basis.
HEARTBEAT enables you to keep track of service level agreements and ensure content and experience is up to standard from every continent. It allows you to spot trends before issues become serious. Here speed is of the essence; Sitemorse allows you to spot trends before issues become serious.
In designing HEARTBEAT we made sure that the interfaces are useful for the decision-makers, and not necessarily technical developers. Executives need clarity about how their digital estate is performing; this topic is expanded in our article Global HEARTBEAT replaces technical data with Executive clarity.
Most digital estate monitoring systems show you the average. This approach is highly ineffective because you could have many days without a problem at all, but it's the problem that you really want to know about. This automated SLA tells you about the problem and saves you time and money in the process.
For more information, watch our introduction to HEARTBEAT video on our YouTube channel: https://youtu.be/6IDlIxOmfKU.