---
The Sitemorse INDEX, is the independent benchmark that ranks public and private sector websites. The INDEX, which is published quarterly, has been used as a key performance indicator (KPI) for organisations since its first publication in 2006. It enables organisations to compare online experience and compliance with their peers or competitors. Each website is individually assessed across categories such as Accessibility and Performance and given an individual score.
More information on how scores are calculated, is available at https://Sitemorse.com/benchmarks
Much of the current focus for online experience and compliance is towards accessibility. All websites under the 'Equality Act 2010', should be inclusive to people living with disabilities. For public sector bodies, there is specific regulations stating websites should be compliant. This is the 'Public Sector Bodies (Websites and Mobile Applications) (No. 2) Accessibility Regulations 2018', which came into force on 23 September 2018.
We're hosting an INDEX webinar on Tuesday 10th May 2022, at 15:30 BST and during the session, we'll also cover more on what the Sitemorse INDEX is and how to understand it.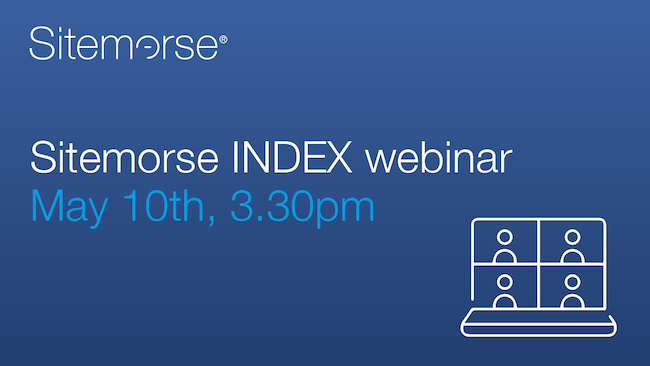 We will be covering the results of the Government and Public Bodies, UK Local Government, UK London Listed PLCs INDEX results for Q2 2022 and identifying some key metrics/trends related to the overall compliance of these sites and where improvements can be made.
To register for this webinar, please register your attendance.