Websites should be designed, developed and maintainted in a way that allows all users equal access to information and functionality. Having an accessible site is not just a nice to have anymore, it's becoming the law. By conforming to accessibility guidelines, not only will your site be available to those with accessibility needs but also improves SEO and user experience for all.

In this week's tech update, Helen Grimbly, Support Lead at Sitemorse, is looking at the accessibility scoring within Sitemorse.
If accessibility single A score has a low score, such as 0% or 1% as in the following screenshot from the accessibility summary page of a report, it means many of the pages have an accessibility single A issue.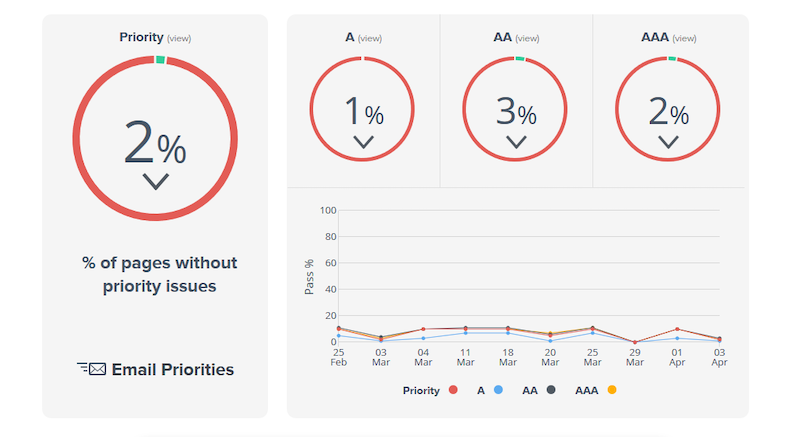 If a site has 10 pages, one of which has 10 problems, this will have less effect on the score than if each of those 10 pages had 1 problem each. This is because the score is affected by the number of pages with accessibility issues, rather than just the number of accessibility issues.
For example:
If accessibility A is 0%, it means every page had an accessibility A issue.
If accessibility A is 15% it means some pages do not have any accessibility A issues.
Note also that for a page to be fully accessible, the code quality also has to validate. So for a page to pass accessibility in Sitemorse, it must also pass Code Quality for that page. If all pages have a code quality issue, then all pages will have an accessibility issue as well.