Sitemorse has been concerned with the experience, optimisation and compliance of client websites and digital content for over a decade. Whilst we are proud to be early pioneers in this market place, we are also happy to be a major contributor to a market segment that is growing and becoming more important as it matures.
Businesses are starting to understand the benefit and importance of error free, optimised content that is compliant with industry regulation, and their own brand guidelines. Legislation surrounding accessibility alone, suggests that in future internal monitoring of web content will become an essential requirement. In the meantime, it goes without saying that website visitors and recipients of digital content should expect error free content that is compliant and delivers a positive experience.
As one of only a small number of companies involved in delivering such a service, it is important to gauge the reaction of our clients to what we offer versus that of our competitors. We are confident that we provide the very best service, however Sitemorse continues to evolve and we want the improvements that we make to reflect the needs of our clients.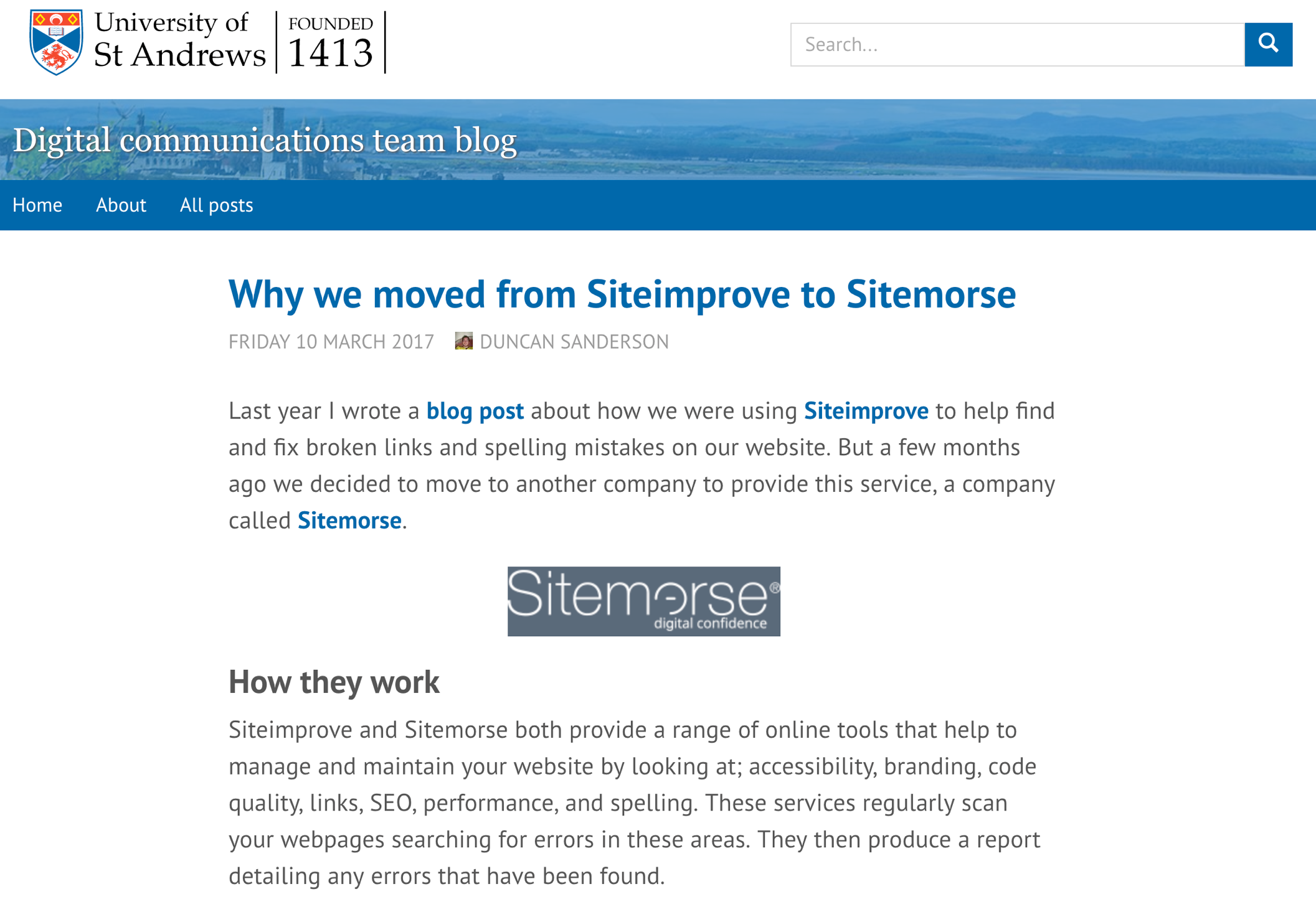 We are grateful for the assessment and feedback of Duncan at University of St Andrews. In a recent blog post, he revealed the results of a comparison St Andrews carried out between Sitemorse and Siteimprove, and why they had move to Sitemorse, replacing Siteimprove. The results echoed feedback that we have recently received from other clients, which confirms that our software finds broken links that are often overlooked by Siteimprove, whilst also providing more detailed analysis. The full comparative post can be accessed on the University of St Andrews' Blog.
Extract from the article -
'How they work
Siteimprove and Sitemorse both provide a range of online tools that help to manage and maintain your website by looking at; accessibility, branding, code quality, links, SEO, performance, and spelling. These services regularly scan your webpages searching for errors in these areas. They then produce a report detailing any errors that have been found.
While both of these companies offer a similar service we decided that Sitemorse had a slight edge on the tools that they were able to provide us with.
What Sitemorse does better
While evaluating Sitemorse we ran a side-by-side comparison with Siteimprove. One of the main tests was to see how accurate each service was when searching for broken links. We found that Sitemorse was more consistent when finding broken links, whereas Siteimprove had a greater tendency to report false positives and miss genuinely broken links.
We also found that Sitemorse provided more in-depth analysis of the results. The reports produced go into a huge amount of detail, providing more information about why we are getting low scores in certain areas. This allows us to have a better understanding of where and why problems are occurring. It is particularly useful for web developers. For example, Sitemorse will report issues with incorrect HTML tags or missing images referred to in the CSS.
Rest assured, despite this positive review we won't be resting on our laurels, Duncan and the team did give us an area to reflect on. They felt that the Siteimprove, interface was intuitive and easy to use in comparison to Sitemorse. This is an area that we have been looking at for version 12 of our software, which is currently in its initial release round. In this version the emphasis is on intelligent reporting, and priorities based on content value and consumption. We think it's the very best service of its type, but we'd love to hear what you think.
Below are some examples of the new service. It moves the market from a service that provides access to 'reports', to content delivered based on the needs of the editor. Corrections are prioritised according to importance, which enables changes that make the greatest improvements, whilst the management team are supported by informative dashboards.